Germany, Switzerland and Austria
Three countries, many adventures
Located in the middle of the European continent the three countries, Germany, Switzerland, and Austria are right next to each other, so in no time you can travel conveniently by train or limousine on the autobahn from Berlin to Vienna or Bern. The three countries share the same time zone which simplifies traveling around. As all are part of the Schengen Area boarder control is at ease. Crossing over to combine more adventures and unique experiences all in one travel itinerary is our uniqueness.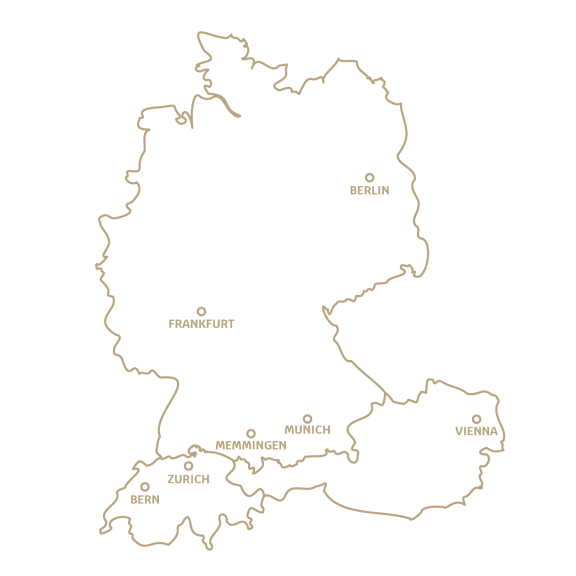 Perfection! They arranged beautiful excursions, wonderful drivers and amazing hotels for us- flawless execution
Mary B. via Virtuoso.com
We had 2 full days of tours and both the guide and driver were great! They anticipated our needs and totally took care of us.
Jennifer R. via Virtuoso.com
Great service! We were very pleased with all the tour guides and drivers we used though Pure Germany. They were all on time, very professional and very knowledgeable about where we were. We were able to alter a couple plans on the fly as we learned more about the areas were in.
Mark F. via Virtuoso.com
Fantastic job- knowledge great, transportation great, wonderful ability to fit in with the family
Marian B. via Virtuoso.com
Wonderful time! Everything was handled with expertise. Thank you.
Paul S. via Virtuoso.com
I want to thank you for all your hard work in putting together our Germany portion of our holiday. I speak not only for myself, but also for the other 3 I traveled with, when I say that each of the guides was fantastic!!! Above and beyond all expectations. It was a fabulous vacation and your guides were a very big part of making it so.
Madeleine B. via E-Mail
I appreciate the warning that I got that the Zugspitz weather would prevent that tour from happening and that your team was prepared and ready to offer a good alternative. I wanted to specifically mention that all three guides were excellent. All three provided us with a wealth of interesting and educational information and on a personal level it was a pleasure to spend time with each of them.
Ernest Stolzer, Larchmont
Pure Germany is preferred partner for exclusive luxury travel

Exclusive hotels providing finest and luxurious accommodation
Contact us
Together we plan the most unique travel experience in Germany, Switzerland and Austria